Encouraging Others
Shaya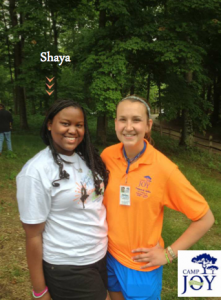 Shaya is a 15 year old resident of East Walnut Hills in Cincinnati, Ohio. This was Shaya's fourth year at Camp Joy, and she has been enjoying the activities and learning new things ever since. "Each year was different. There are new activities every year and the activities have gotten better. One thing I've learned istobemyself. It'seasierformetobearoundnew people now."
Shaya remembers being shy in her first two years as a camper, but becoming more confident throughout her third year and now in her fourth year, becoming a leader. Shaya attributes her new confidence to the older campers during her first two years: "There was an older camper my first and second years who helped me to be less shy and to trust other people. They were a role model to me, and now I'm being a role model to the younger campers."
By being "down to earth and encouraging other people" Shaya is getting to know other campers and is quickly becoming an example.
Encouraging others is something Shaya learned from older campers, and has been able to pass down this year:" I think the best way to help someone is to get to know them first, and then you can give them meaningful encouragement. Camp Joy has really taught me a lot about teamwork and encouragement." 
The excitement of learning and growing at Camp Joy all begins with
our first connection with you.
We are excited to get the opportunity to meet you and show you camp! If it is easier, just give Tia a call at 513-478-9282