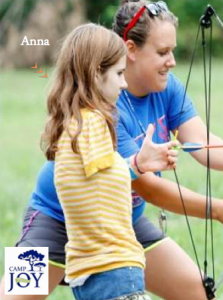 The importance of acceptance is one of the many things Anna has learned in her three years at Camp Joy as a participant in the summer program for amputees. "Everybody has a story, something that sets them apart—and you have to learn to accept it," said Anna, a 14 year-old camper and rising high school freshman. Anna is a participant in the Amputee Coalition of America's Paddy Rossbach Youth camp's program at Camp Joy.
Some of Anna's favorite activities like the ropes course and archery show that the possibilities are endless when you are strong willed and determined. Anna didn't let her amputation hold her back when with the help of a counselor she picked up the bow and arrow and nearly shot a bulls eye: "I thought how am I going to be able to do that? But I did it and I was really happy. I wasn't expecting to even make it to the target but I made it really close to the bulls-eye!"
All of these experiences have led to an increase in Anna's self confidence, and her ability to defy the odds has inspired campers and counselors alike: "Camp is a place where you can go in at first unhappy and nervous, and then you come out and feel more confident in yourself and you know you're not the only person with struggles in the world."
The excitement of learning and growing at Camp Joy all begins with
our first connection with you.
We are excited to get the opportunity to meet you and show you camp! If it is easier, just give Tia a call at 513-478-9282