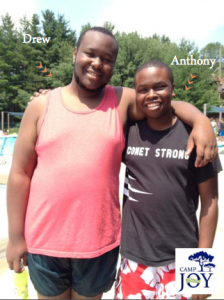 An eight-year camp veteran, Anthony's most impactful experience comes from learning the importance of perspective. A camper with Cincinnati Children's Hospital and an individual living with hemophilia, Anthony has learned the importance of understanding your background, history, and condition, as well as the story of others.
"I've learned not to be afraid or ashamed because a lot of people have it worse than I do…they have harder day to day struggles, they have more difficult treatments, they don't have the help that I do." Anthony's experience with hemophilia is unique because he is not the only member of his immediate family to receive such a diagnosis. His older brother Drew, a counselor at Camp Joy, was also diagnosed with the condition at an early age. Experiencing the challenges of hemophilia is never easy, but the burden is lessened by companionship and conversation. This companionship happens to be one of Anthony's favorite aspects of camp, knowing that "there are so many people with the same diagnosis all in the same place." Because of the ability to express himself openly at camp, Anthony believes he will be more confident and willing to share his story at school and in his community.
The excitement of learning and growing at Camp Joy all begins with
our first connection with you.
We are excited to get the opportunity to meet you and show you camp! If it is easier, just give Tia a call at 513-478-9282