Planned Giving
Your legacy can ensure joy for years to come.
As a nonprofit organization, Camp Joy depends on your support to help thousands of underserved children. Every gift is important to help people grow and succeed through experience-based learning. Legacy gifts allow donors to make a designation in a variety of ways from an estate or to honor a loved one:
Wills & Bequests – A gift to Camp Joy by Will allows you to retain all your assets during your lifetime and/or the life of your spouse. Designations may be made for a percent of your estate or for a specific amount.

Outright Gift – A direct gift of cash, appreciated securities or real properties may be the most convenient way for you to make a contribution to Camp Joy.

Charitable Remainder Trusts – A Charitable Remainder Trust can provide fixed income to you (and your spouse) for as long as you live. Thereafter, the trust principal is a gift to Camp Joy. You may include other charities or beneficiaries as recipients of the trust as well.

Charitable Lead Trust – A Charitable Lead Trust can be appropriate if you have sufficient income now, but wish to retain ownership of the trust principle to meet future financial goals for your family. Income from the Trust will be directed to Camp Joy as a gift for the specified duration, after which time the principal will return to you or designated survivors.

Life Insurance – When you no longer need the additional security of life insurance, the policy can be donated to Camp Joy.

Retirement Funds – If you have significant retirement plan assets, such as an IRA or 401(k), Camp Joy can be named the beneficiary, which could potentially result in tax savings for your estate.
Important Giving Information:
Legal Name: Joy Outdoor Education Center Foundation, Inc.
Federal Tax ID: 31-0672822
For more information on our planned giving options, please contact the Camp Joy Foundation, at 937-289-9131, or email us at CampJoyFoundation@camp-joy.com.
Tom & Martha Huheey: A Legacy to lift up your region's youth.
Tom and Martha Huheey were introduced to Camp Joy in the 1990's, when their accountant, Steve Lowe, brought them to see Camp Joy at the Camp's annual Harvest Fest Celebration. They fell in love with Camp Joy's mission to serve children in need and valued the outdoor education and enrichment that Joy's programming provided for youth from disadvantaged backgrounds.
Tom was a hog farmer and Martha worked as an occupational nurse at P&G. They lived frugally and lived in Westwood, OH. When they included Camp Joy in their will, it was their wish that their gift would continue to support these programs and ensure these outdoor opportunities could continue to lift up our region's youth.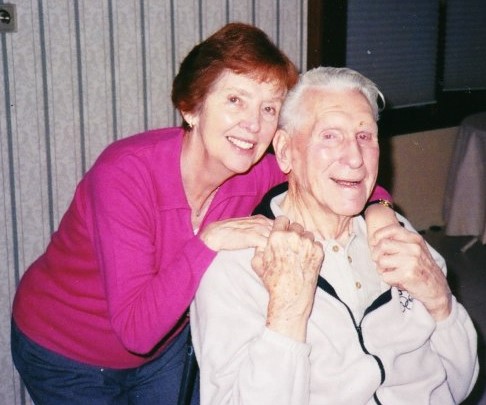 Tom & Martha Huheey left an amazing legacy gift to impact the lives of youth for decades to come.
Judy Gelwicks and Beth Schumacher, the nieces of Tom and Martha Huheey, presented the $1,075,000 check from the Huheey Trust—the camp's first planned gift from an estate. Our board voted unanimously to invest this legacy gift into the Restricted Endowment Fund, which provides financial support for camp and outdoor programs serving children and ensures that the opportunity to participate in these programs are available to everyone regardless of financial or physical ability.
"Tom & Martha Huheey's amazing legacy gift is truly a dream come true to help financially sustain Camp Joy's original mission of serving children-in-need," says Mike McGinty, Camp Joy Foundation Executive Director. "Thanks to this gift, Camp Joy will now be able to annually provide enriching outdoor experiences for dozens of children that are confronted with life's hardships. This incredible planned gift from Tom & Martha Huheey will impact lives in perpetuity."
We went to Camp Joy to learn teamwork and to have fun learning. My favorite activity was the underground railroad reenactment because it seemed so real, and it just comes to show how bad slaves were really treated. I personally learned how to deal with people that I'm stuck with or with people that don't like too much. Camp Joy affected my school year in a way that I would work together much better with people. Camp Joy was a lot of fun.
Thank you for for being my trail group leader. Throughout my time at Camp Joy you helped me and led us through our groups' difficult times. You were also really fun singing all of those songs while we were hiking. I also thought that you were really good in the Underground Railroad play through. You probably would have caught us because of the way that we had escape. Thank you for helping me throughout Camp Joy, you should always know that I will never forget Camp Joy because of you.
Thank you again for providing our campers with a phenomenal experience. It is always a great opportunity for them to connect with other campers who share in their same medical condition and make lasting friendships with their peers.
The excitement of learning and growing at Camp Joy all begins with
our first connection with you.
We are excited to get the opportunity to meet you and show you camp! If it is easier, just give Tia a call at 513-478-9282