A Healthy, Happy, Heart
Kelsey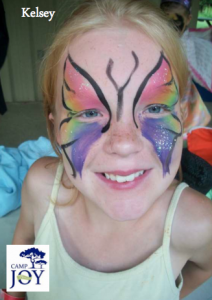 Kelsey comes to Camp Joy with the Joyful Hearts program, a program offered to children with heart conditions: "I have been coming to camp for three or four years, but this week has been the best. This week I've been really happy". This reflection from 10-year- old Kelsey expresses a common sentiment from Joy campers, one of pure excitement and happiness.
Camp Joy allows Kelsey to meet other children with her same condition, Hypoplastic Heart Syndrome, and many other similar conditions: "It has been really cool because I met a friend with the same condition as me, and we understand each other."
Through various camp activities Kelsey has been challenged to step out of her comfort zone and try new things, while simultaneously learning valuable life lessons. Camp has taught her to "listen to other people more" and to be "more understanding". The lessons Kelsey learned at Camp Joy and the memories she made could make any heart joyful. 
The excitement of learning and growing at Camp Joy all begins with
our first connection with you.
We are excited to get the opportunity to meet you and show you camp! If it is easier, just give Tia a call at 513-478-9282